Trend Watch
on September 11th, 2012
Comments Off

on Major Radio Networks to Broadcast and Add the Build with America Show to their Programming Lineup.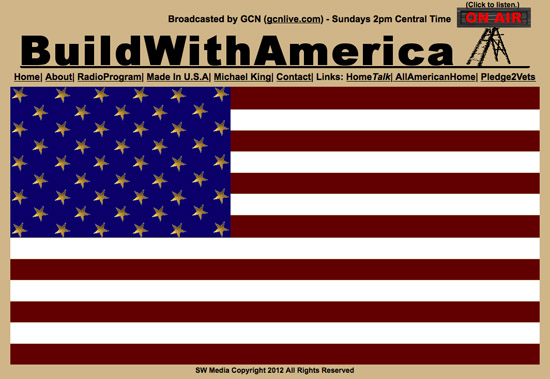 NEW ORLEANS, La. September 11th 2012 … It was announced today by Michael King President and CEO of the Kings Broadcasting Network, Syndicators of the popular radio shows Home Talk USA and Build with America, that the Business Talk Radio, The Genesis Communication and the Heathlife.net Radio Networks will all add the new Build w America Radio Program to their broadcasting and programming lineups.
John Patch speaking on behalf of the Business Talk Radio Network said that," The new radio call in program called "Build with America", will be focusing on home improvement products and technology companies that manufacture, produce and assemble right here in the US by our American Workers. Each week, Michael King will feature one of these American made home construction/ home improvement companies on the show, taking calls and discussing the many features and benefits of purchasing these products by US Consumers. "
Michael King the host/producer of the show went on to say that, "I'm excited about the fact that all these top radio networks decided to carry the show, but they all wanted me to host it. My expressed intention of this program, is for our listening audience, which will be comprised of US Consumers, to make my guest accessible to them. The sole purpose is not only create consumer awareness for US consumers, but when they actually purchase these products, it  will in a sense be creating much-needed jobs right here in the US. The long term goal is to start manufacturing these products right back here in the United States. "
The creation of the program was inspired by the Bozeman, Montana home that was built with 100% American made home construction and home improvement products that was featured by Diane Sawyer of ABC News and promoted on Home Talk USA.
On average, the US builds about 1.4 million homes a year at a construction cost of $280 Billion. If builders would just reallocate 5% of their construction spending to America made products, this would add roughly $10 billion to the America GNP. So what if every family in the US reallocated 5% of their spending to American made products? This would translate into the creation of roughly 3 million new job!" ( Quote provided by http://theallamericanhome.com/about).
If you have questions, need further information or would like to know about broadcasting times and dates, Please visit www.buildwithamerica.com