Do you know where your furniture comes from? A conversation with Peggy Farabaugh, Vermont Woods Studios and Marcie Gabor, Made in USA Brand
Made in USA Brand: Please describe your business and Made in USA products.
Vermont Woods Studios: At Vermont Woods Studios we showcase and sell handmade solid wood furniture made in America – right here in Vermont, actually. It's modern, stylish and customizable.  Furniture, as you like it. VemontWoodsStudios.com is the only fine furniture site on the web that allows buyers to customize their furniture to their exact specifications, often at little or no additional cost.
Do you know where your furniture comes from?  Up to 90% of our furniture in the USA is made from illegal woods that have been clear-cut from the world's rapidly disappearing rainforests.  At Vermont Woods Studios we showcase beautiful American made furniture handmade from local sustainably harvested woods.  Our solid wood furniture is finished with natural, non-toxic finishes and shipped anywhere in the continental USA at no additional charge.   VermontWoodsStudios.com makes each piece of furniture in Vermont from natural, eco friendly, sustainably-harvested wood so customers are doing their part by avoiding the use of rare rainforest woods.  What's so important about saving the rainforest?  The rainforest supplies us with oxygen to breath and scrubs the greenhouse gas, carbon dioxide out of the atmosphere.  Rainforests regulate global weather too.  But in order to feed global demand for cheap wooden furniture, the rainforests are being illegally clear-cut at a rate of over 1.5 acres per second.  A quarter of the countries on this earth have already lost over 90% of their forests.  The only way to slow the destruction of the rainforest is to reduce global demand for it's resources.  Consumers can help by avoiding the purchase of cheap furniture imports made of illegal rainforest woods and choose instead to buy American made wood furniture.  VermontWoodsStudios.com is an industry leader in raising awareness about the importance of the rainforest and the use of green commerce in an effort to save it.
Made in USA Brand: Has American-made been a selling point for your product in most instances?
Vermont Woods Studios: Yes, customers want to know that their purchasing power is helping local communities in America become more sustainable.  And they're looking for a greater sense of authenticity in their lives.  They no longer want more stuff– stuff that's made cheaply overseas with materials of questionable origin and quality.  People are gravitating towards American handmade items that not only have superb quality and style but that also give them a sense of connection to nature and to the craftsperson who made them.
Made in USA Brand: How do you emphasize this characteristic and use it as a marketing tool?
Vermont Woods Studios: We use extensive discussion of the subject of American Made on our website and our blog.  We display your Made in the USA logo on almost every page of our website.  Thanks!!
Made in USA Brand: Do you feel your customers take Made in USA into consideration when making their purchases?
Vermont Woods Studios: Yes, they definitely do.
Made in USA Brand: Why do you think that feature is important to customers/buyers?
Vermont Woods Studios: People are tired of buying curbside furniture that lasts only a few years before it's outside waiting for the trash collector.  They take pride in owning American hand-made solid wood furniture they will never have to replace.  Furniture they can hand down to their children and grandchildren.  It makes us feel good to gather our families around a handcrafted, solid wood dinner table as opposed to a cheap imported table made of particle board and veneer.
Made in USA Brand: What value do you believe the Made in USA Brand Certification Mark Logo brings to your products and business?
Vermont Woods Studios: It conveys both the handmade aspect of our furniture as well as the Made in America aspect.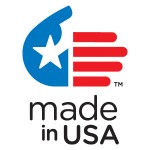 U.S. Businesses: Click here to apply to use the Made in USA Brand Certification Mark